Main Page
From IT Process Wiki
IT Process Wiki - the ITIL® Wiki: This Wiki is about the IT Infrastructure Library ITIL® (ITIL 4, ITIL V3 & V2) and IT Service Management (ITSM).
ITIL Wiki
---
The IT Process Wiki is run and sponsored by IT Process Maps, creators of the ITIL Process Map and the streamlined YaSM service management model. It was first launched in 2007 and is available in English, German: ITIL-Wiki auf Deutsch and Spanish: Wiki de ITIL en español.
The contents of the ITIL Wiki include [1]:
Introductory information about ITIL (IT Infrastructure Library).

Reference material on ITIL and IT service management.

Detailed guidance on ITSM and ITIL process management.

Overview: All topics.
Latest news: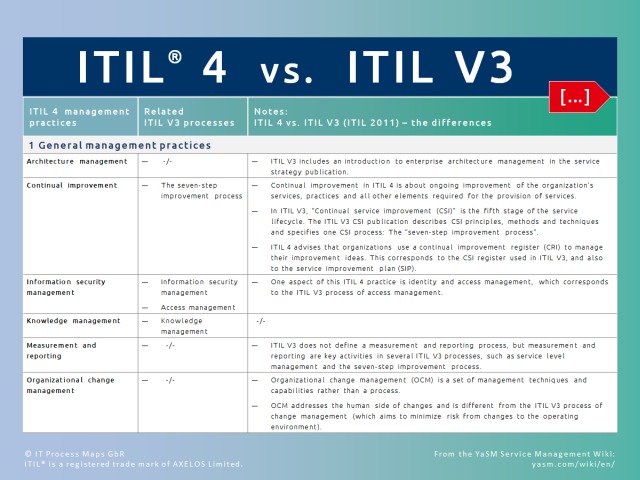 About ITIL
---
ITIL describes best practices for the effective and efficient provision of IT services. ITIL was first initiated in the 1980's when the IT services provided to the British government did not meet expectations, and a method had to be found to achieve better quality at lower costs.
Today, ITIL is the most widely accepted approach to providing IT services. In our history of ITIL you can read more about how the framework has evolved over the years into ITIL 2011 and the most recent version of ITIL 4 ('ITIL V4').
There is also a growing trend towards "enterprise service management (ESM)" - shorthand for applying the ITIL approach beyond its traditional use in IT.
Organizations that wish to demonstrate the quality of their IT service management processes can get certified against ISO 20000.
The ideas behind ITIL
If you are new to ITIL and service management, we recommend that you first seek to understand the key principles behind ITIL.
Our video series about the "simple principles of good service management" on the YaSM site explains these principles in plain language and is perfect to get started. In the first video, we discuss how customer focus is the key to success.
---
At the top level, ITIL is organized around the "ITIL Service Lifecycle" (see fig. 1), and each of the five service lifecycle stages consists of several processes. The idea is that service providers check, on a regular basis, if their services are delivered according to expectations, and take corrective action if necessary.
The ITIL Service Lifecycle and the ITIL processes are modelled upon the time-tested "Plan-Do-Check-Act" or "PDCA" cycle that was made popular by Edwards Deming (see article in Wikipedia: PDCA).
This ITIL Wiki provides descriptions of all ITIL service lifecycle stages, including detailed information about the ITIL processes and sub-processes, complete with their inputs and outputs, corresponding ITIL roles, as well as process metrics (KPIs):
---
The ITIL Glossary in this Wiki defines the key terms and acronyms used in ITIL® and IT Service Management (ITSM).
Many terms in the ITIL glossary contain links to related ITIL Wiki content, such as pages about ITIL processes, role definitions and ITIL templates and checklists.
---
The free ITIL templates and checklists contained in the ITIL Wiki extend the definitions from the ITIL Glossary.
Many ITIL terms relate to documents or records created in the ITIL processes, and ITIL describes in quite a bit of detail what information should be contained in these documents and records. For example, in the Incident Management process we create Incident Records, and ITIL contains specific recommendations for the information that should be contained in such records.
With this guidance we have prepared a collection of checklists and document templates that you can use to get started with ITIL documents and records.
These checklists and templates were created as part of the ITIL Process Map - our officially reviewed process model for ITIL.
---
ITIL defines responsibilities through roles, where a role is "a set of responsibilities, activities and authorities granted to a person or team".
Here in the ITIL Wiki you can find a complete list of ITIL roles with their definitions, including RACI matrices (responsibility matrices) for each ITIL process (see example: the RACI matrix for Incident Management).
---
How to adopt ITIL in practice? ITIL implementation projects are characterized by a typical course of action, and the page about implementing ITIL provides advice for your ITIL initiative.
This advice includes the ITIL Implementation Guide in 10 Steps with detailed instructions on how to set up and carry out ITIL implementation projects, which can serve as a guideline for a wide range of ITIL initiatives.
For a quick overview, please check out the infographic about ITIL implementations.
The ITIL Wiki: Contents
---
ITIL knowledge: Reference material on ITIL and IT service management.
IT Process Maps
---
The People behind the ITIL Wiki
---
IT Process Maps, founded in 2006 by Stefan Kempter and Dr. Andrea Kempter, specializes in the provision of reference process models ("process templates") for service providers based on time-tested best-practice recommendations.
Our business is the provision of ready-to-use process templates and know-how to support you in your service management initiatives based on ITIL®, YaSM® or ISO/IEC 20000.

ITIL Process Templates
---
This ITIL Wiki is based on content from our process model for ITIL: The ITIL® Process Map has successfully passed a review by AXELOS and is provided as an officially licensed product under the ITIL® Licensed Product scheme.
The ITIL Process Map is a "translation" of ITIL into legible, easy-to-read process diagrams and document templates. It is used by hundreds of organizations world-wide who realized that defining their processes is much easier and faster if they start with a complete set of templates.
The ITIL® Process Map covers the full ITIL service lifecycle. It is available as a process model for Microsoft Visio, ARIS™ and other process management platforms.
YaSM: A fresh process model for ITIL 4, VeriSM, ISO 20000, ...
---
ITIL 4 is no longer prescriptive about processes and gives organizations more freedom to define tailor-made processes. ITIL 4 also strongly promotes simple and practical ways of working.
This presents an opportunity for a fresh start with leaner, less difficult ITIL processes:
Our YaSM process model describes streamlined service management processes and provides a complete set of process and document templates. The YaSM model is in tune with ITIL 4 - and with other service management frameworks and standards such as ISO 20000, VeriSM™, SIAM® and FitSM.
For a complete introduction to YaSM and the YaSM process model, please check out the free YaSM Service Management Wiki.
Featured content from the YaSM Wiki:
See also: The YaSM Service Management Wiki (German version).
Notes
---
Trademarks:
[1] ITIL® is a registered trade mark of AXELOS Limited. IT Infrastructure Library® is a registered trade mark of AXELOS Limited.
[2] YaSM® is a registered trade mark of IT Process Maps GbR.

Authors:
By:  Stefan Kempter 
  and  Andrea Kempter 
, IT Process Maps.
ITIL Processes  › ITIL 4  › ITIL Templates  › ITIL Roles  › ITIL Glossary  › ITIL Implementation