History of ITIL
From IT Process Wiki
What is ITIL?
---
ITIL® - the IT Infrastructure Library [1] - is the most widely used approach to managing IT services. The guidance provided in ITIL® helps organizations to deliver their services in a customer-focused, quality-driven and economical way.
How did ITIL start?
ITIL® was developed at the end of the 1980's by the Central Computing and Telecommunications Agency (CCTA), a government agency in Great Britain [2]. The reason for commissioning the CCTA was a lack of quality in the IT services procured by the British Government, and a method had to be found to achieve better quality at lower cost. So the CCTA set out to develop recommendations for the effective and efficient provision of IT services. This resulted in a catalogue of best practices for IT organizations, which today is known as "ITIL".
Historically, IT organizations were often focused on software, hardware and other technology, rather than driven by customer requirements. Against this backdrop, the key idea behind ITIL is that IT services should be focused on client needs, and that organizations explicitly agree the services to be delivered with their customers. This should be combined with effective processes and clearly defined responsibilities for service provision within the IT organization.
During its research, the CCTA found that the requirements of the various businesses and organizations were mostly similar, independent of their size or industry sector. The recommendations compiled by the CCTA are thus valid for organizations of all types and sizes.
A series of books on ITIL has been issued since 1989 by the Cabinet Office, an administrative body of the government of Great Britain. As of the beginning of 2014, the ITIL® trademark and intellectual property has been owned by AXELOS, a joint venture between the Cabinet Office and Capita Plc.
ITIL V2: Service support and service delivery
ITIL V2, released in 2000/2001, consolidated the large amount of ITIL guidance produced so far into nine publications. Two of these publications (service support and service delivery) were widely circulated and used.
Although the guidance provided in ITIL V2 is technically still valid, ITIL V2 has lost much of its relevance and most organizations today use ITIL V3 and ITIL 4.
ITIL V3 and the service lifecycle
In 2007 the OGC published a completely revised version of ITIL, known as "ITIL Version 3 (ITIL V3)".
These publications were updated in 2011, taking into account feedback from the user and training community ("ITIL 2011").
ITIL V3 is organized around a set of five core publications which together form the ITIL service lifecycle (see fig. 1):
The rationale for organizing the ITIL books in this way was to establish a Deming-like Plan-Do-Check-Act (PDCA) cycle focused on continual improvement. The PDCA cycle also figures prominently in ISO 20000, the international standard for service management, so ITIL V3 is better aligned with ISO 20000 than earlier versions of ITIL.
ITIL V3 complements the processes known from ITIL V2 with a number of new processes and puts more emphasis on producing value for the business.
In our ITIL Wiki you can find
For organizations that wish to introduce ITIL V3-aligned processes, we provide the ITIL Process Map - a 'translation' of ITIL V3 and the service lifecycle processes into ready-to-use, customizable process templates.
ITIL 4: A holistic approach
ITIL 4 - the most recent edition of ITIL - was published by AXELOS in February 2019. ITIL 4 embraces the latest trends in technologies and service management, and provides a flexible basis to support organizations as they undergo digital transformation and integrate digital technology into all areas of their business.
The service lifecycle and the 26 service lifecycle processes introduced with ITIL V3 have been dropped again in ITIL 4. This gives service providers more freedom to design tailor-made processes that work for the organization.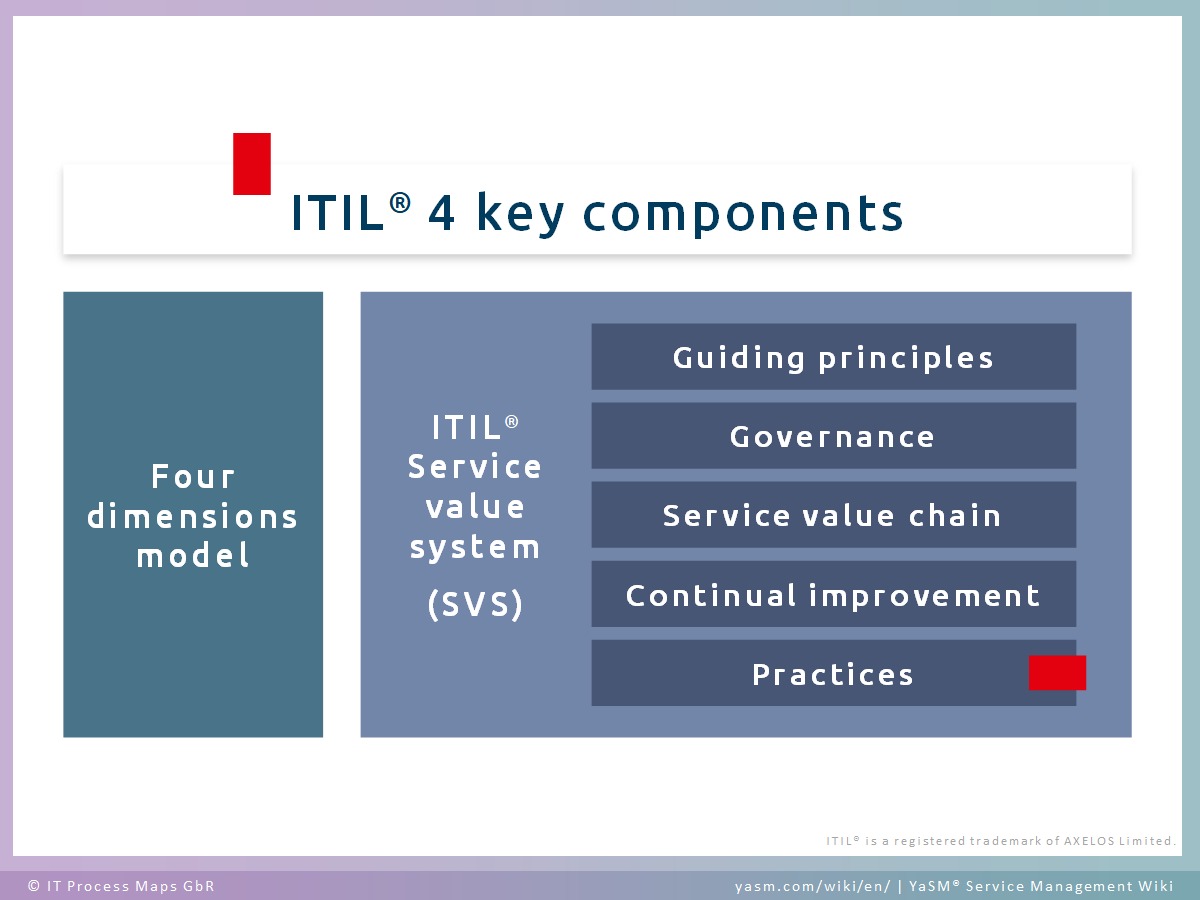 ITIL 4 is not a minor upgrade of the ITIL framework but a completely revised body of knowledge.
Learn more on our special page about ITIL 4:
→ See also: Detailed mapping between ITIL V3 and ITIL 4 (in our YaSM Service Management Wiki).

ITIL accepted as de-facto standard
Over the years, ITIL has emerged as the de-facto standard for ITSM (IT Service Management). IT managers have come to value the benefits of the service- and customer-driven approach championed by ITIL, and the ITIL terminology is widely understood and used.
The ideas behind ITIL have found their way into a multitude of other models for ITSM and business service management, as for example:
ISO 20000 (formerly BS 15000): Information Technology - Service Management
HP ITSM Reference Model (Hewlett Packard)
IT Process Model (IBM)
Microsoft Operations Framework
... and the streamlined YaSM service management model
IT Process Wiki: Facts and know-how about ITIL
We provide a wealth of ITIL facts and knowledge in this ITIL Wiki!
Our ITIL Wiki includes detailed descriptions of all ITIL processes and sub-processes, an ITIL glossary, ITIL checklists, a list of ITIL roles, specifications of ITIL process metrics (ITIL KPIs), as well as a selection of free ITIL templates from our ITIL® Process Map.
Links and additional information
[1] IT Infrastructure Library® and ITIL® are registered trade marks of AXELOS Limited.
[2] John S Stewart. "How ITIL started". -- Blog IBPI (The International Best Practice Institute) www.ibpi.org, February 11, 2013. Last retrieved March 29, 2022.
By:  Andrea Kempter 
, IT Process Maps.
What is ITIL?  › How did ITIL start?  › ITIL V3 and the service lifecycle  › ITIL 4: A holistic approach